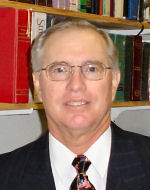 Dr. Tim Reynolds has over 30 years experience ministering to people's needs.  He and his wife Gayle have served in churches in Texas, Colorado, Illinois, and Kentucky.  They live in nearby Timberhills subdivision.
Pastor Reynolds is available to answer your questions about Heritage Baptist Church.  He would also be happy to discuss any spiritual matter.
Please call the Church office to schedule an appointment, or to just chat.